Blade Ball codes for December 2023
Get free coins, spins and swords for your Blade Ball character.
1st December 2023: We checked for new Blade Ball codes.
Blade Ball is one of the most popular Roblox games around. The fast and furious experience is like a cross between dodgeball and battle royale. Players are dropped into an arena with a flying ball, that they have to bat away with a sword whenever it locks onto them. If they block successfully, the speed of the ball increases and it zeroes in on someone else. But if they're hit they explode.
Matches in Blade Ball get intense very quickly, thanks to the rapid reactions of other players and the increasing speed of the ball. At times, it almost has the tempo of a chaotic game of air hockey, which is why Blade Ball codes are so useful. Codes offer unique swords, spins for the giant wheel and free coins so you can upgrade your character. Codes drop regularly, and we'll update this page whenever new ones release.
---
Working Blade Ball codes
Here's the list of all working Blade Ball codes:
VISITS_TY: Free Spin
SERPENT_HYPE: Equinox Ball Kebab
UPDATE.DAY: Comically Large Flashlight
1.5BTHANKS: Ball on a Stick
UPD250COINS: 250 Coins
Sometimes, a newly released code can only be redeemed in a private server. If you're having issues redeeming any code, join a private server and try claiming it in that.
---
Expired Blade Ball codes
1BVISITSTHANKS
1MLIKES
10KFOLLOWERZ
1000LIKES
10000LIKES
200KLIKES
3MLIKES
500K
5000LIKES
50000LIKES
FORTUNE
HALLOWEEN
HAPPYHALLOWEEN
HOTDOG10K
RRRANKEDDD
SITDOWN
SORRY4DELAY
ThxForSupport
UPDATETHREE
WEEK4
---
How to redeem Blade Ball codes
How do you enter codes in Blade Ball? To access the codes menu, you need to press the 'Extra' button in the top left corner of your screen and then select the 'Codes' option.
Here's a step-by-step guide for redeeming codes in Blade Ball:
Launch Blade Ball in Roblox.
Once you spawn in-game click the 'Extra' button in the top left of your screen.
A 'Redeem code' menu will pop up next with a textbox that says 'Type code here'.
If the code you entered is valid, the text in the textbox will change to 'Successfully claimed!' If you get an 'Expired!' error message instead, then that could mean one of two things. It could mean the code has to be redeemed in a private or new server, and you're in an old one. To get round this, create a private server, then join that server and redeem the code again. Blade Ball lets you create one free private server per Roblox account.
If you try to redeem a code in a private server, and still get an error message, then that means the code is unfortunately no longer working. Codes for Roblox games are typically time-limited, and when it comes to Blade Ball the longest we've seen a code stay active for has been around two weeks.
---
When are new Blade Ball codes released?
New Blade Ball codes are usually released when the game hits specific milestones, shortly after new updates drop or when follower goals (which are shared on Discord and an in-game sign) are met. The only exception to these rules is the previously released 1.6 update. A new code was available a few days after the launch of this version.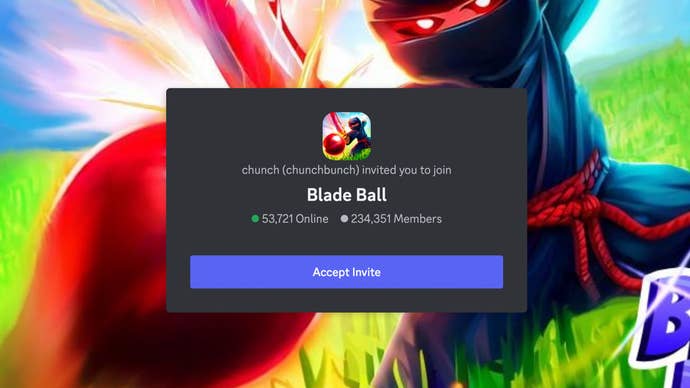 Where are new Blade Ball codes announced?
Codes for Blade Ball are mainly announced on the game's official Discord page in the #codes channel. Sometimes, the game's developer Wiggity also use the Blade Ball Twitter account to announce new codes, including the code that was released when Blade Ball became the fastest Roblox game ever to reach a billion visits. A round-up of all active codes is also shared occasionally on the official Blade Ball YouTube channel. Of course, you don't want to be spending lots of time checking socials for new codes - you just want to be playing Blade Ball and trying to scoop up wins! To save you time, we regularly hunt around for the latest codes, and update this page whenever new Blade Ball codes launch and when previously active codes stop working.
AND NEW CODE!! VISITS_TY ?

— Blade Ball (@Blade_Ball) November 26, 2023
What are Blade Ball codes?
Blade Ball codes offer players a variety of time-limited freebies, with free coins one of the most regularly released rewards. Coins can be used to open sword skin and explosion crates, buy new abilities and upgrade existing ones, or be saved up to purchase a spin for the giant wheel - but that's fairly expensive! Blade Ball codes also offer unique sword skins that you can't get anywhere else, and free spins for the giant wheel.
---
That's a wrap on our Blade Ball codes page! For help with other popular Roblox games, check out our lists of Blox Fruits codes, Peroxide codes, Anime Adventures codes, Untitled Boxing Game codes, Fruit Battlegrounds codes and King Legacy codes.